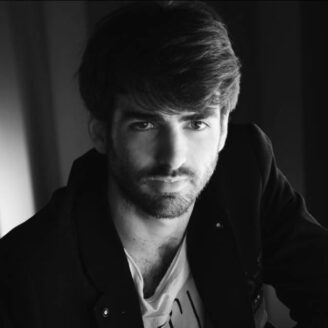 A.M
Classique
Contactez cet artiste
Retour à la liste
Voir le CV
PROFESSIONNAL EXPERIENCES
2016 Valentino/Beecroft collaboration
Out of Stage Project directed by Deyan Parouchev
Eric Legay's documentary La Vie en Danse
09/06/2015 directed by Rebecca Zlotowski
2015 In a Pattern's Life exposed in Paris Beaubourg
2014 Short film Haut Vol directed by Louis de Caunes
Awarded best young promising dancer « Prix Arop »
2012 Performance on a live TV program for Arte
2006 Senior finalist, Varna International Ballet Competition
2005-2015 Dancer with the Paris Opera Ballet: « surnuméraire » in 2005, promoted to « quadrille » in 2007, « coryphée » in 2008, « sujet » in 2011.
Choreographed Kaléidoscope (2011) and El Fuego de la Pasion (2013) for young choreographers' workshops at the Opéra Bastille, as well as Duo, Errance d'une Geisha and Fantaisie Libertine (2011), Adagio (2015), Heures Dansantes and Amores (2015) for a special evening « Musique et Danse » at the Opéra Garnier. Barre chorégraphiée, Suite Caspienne and Medianoche for the second international festival of Andros in Greece (2016)
Performances as a soloist in Canada, Argentina and at the Jacob's Pillow Festival in the USA
Tours with the Paris Opera Ballet, national and international (including the Bolshoï in Moscow, Novossibirsk, Beijing, Singapore)
Performs in the entire Paris Opera Ballet repertoire, including: creations (B.Millepied's Amoveo, Daphnis and Chloé, Clear Loud Bright Forward, W. Mc Gregor' s Genus and L' Anatomie de la sensation), classical productions (R. Nureyev, P. Bart, J.-G. Bart, P. Lacotte...), neoclassical productions (Ashton, Robbins, MacMillan...) and contemporary works (Forsythe, Kylian...) as soloist and principal roles.
ARTISTIC TRAINING
2005-2011 Classes with the Bolshoi Ballet, San Francisco Ballet, Berlin Staatsballett, Royal Swedish Ballet, Royal Danish Ballet and Het Nationale Ballet
2004 Flamenco lessons with an ex
1999-2005 Paris Opera Ballet School